Side Trips is a list of upcoming events, published in each issue of Four Winds Journal.  However, since exciting offerings present themselves much faster than we can publish them, this page is a monthly updated list of events, workshops, conferences, ongoing courses, and more.  If you would like us to share your events and activities, please send email to Side Trips, at orenda@orenda-arts.org.
SIDE TRIPS
A collection of upcoming learning experiences and adventures. Enjoy!
Ongoing: Introduction to Essential Oils.    Aromahead Institute.  Free course online.
Ongoing:  Sufi Universal Fraternal Institute.   Sacred Events and Courses.
Ongoing:  The Bridge Project:  Building Bridges in the Blue Ridge.   Call for Artists and Writers to write, paint, draw, or collage on 5 x 7 POSTCARDS to celebrate the connections we make (or would like to make) with people who may seem different from ourselves.  All participants are welcome!  Postcards will be incorporated into a wooden slat bridge and displayed at a celebration event. The event will include readings from select postcards, music, poetry, and refreshments. Postcards and the bridge may also be displayed in other locations in Front Royal, Virginia, and the larger area.  Event images will be posted online.
Ongoing:  Events, Trainings, and Art Exhibits at Life Force Arts Center.  Chicago's Spiritual Art Gallery and Performance Space.  1609 W. Belmont, Chicago, IL.  773-327-7224.
Ongoing:  Girls Inc helps girls to be Strong, Smart, and Bold!  After school programs, arts classes, summer camps, teen programs and more for girls ages 5-18.  301 Hillside Avenue, Santa Fe, NM.  505-982-2042.
June 26, 2018: The Shift Network:  12 noon Pacific time  Watch the Encore of
3 Steps to Clearing Other People's Energy & Setting Healthy Boundaries
So, what will fill the space if, as an overly empathic person, you stop taking on other people's energy?  Your own energy and radiant divine light, says Wendy De Rosa, leading intuitive healer, author and teacher.  This occurs in part, because your soul, forced higher up in your body due to early conditioning in your lower chakras, can finally return to its rightful place within your energetic anatomy…
In the brief video clip below, Wendy shares about the "detox" of energies that aren't yours from your system — grounding you in your full, empowered Self and allowing you to radiate presence.
Watch this 1-minute video, here: Clearing Your Energy Body to Radiate Presence and Divine Light with Wendy De Rosa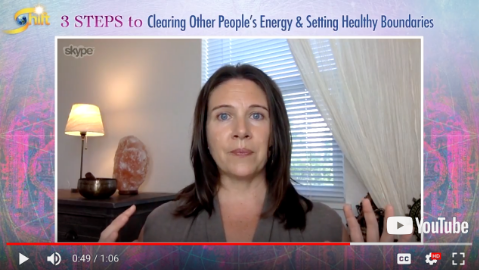 This clip is a just a small taste of the event with Wendy last week. Don't forget you can see the full encore at Noon Pacific tomorrow, June 26.
P.S In the meantime, you can be guided by Wendy much deeper into your energy system and in clearing early conditioning, de-cording and accessing your true power, here: Energy Training for Empaths.
Photo courtesy of Activedia